Coming from a tradition where a man's handshake was more important than a contract, it was only natural to name our company…Stephens Construction.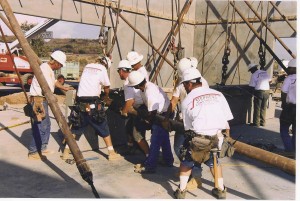 Since 1957, the Stephens family has been associated with quality construction, land development, and real estate.  The construction tradition began when L.J. "Jack" Stephens emigrated from Canada and began building homes and offices in Southern California.
As a young boy, L. James "Jim" Stephens began working alongside his father, learning the construction trade from the ground up.  After graduating from Idaho State University, Stephens returned to the family business, spending a decade working with his father, honing his skills, and helping to expand the business.  In 1980, Jim Stephens founded Stephens Construction and in 1990, the company became LS&H Construction Inc dba Stephens Construction & Development.  In 2013, the Stephens Family relocated the business from San Diego, California, to Houston, Texas.
Throughout the years, Stephens successfully expanded the business, adding services and adapting to the ever changing construction landscape by providing the same high quality construction, creative planning, and dedicated, personalized customer service the company was founded upon.
Stephens Construction is a broad based, Certified LEED Green Associate construction company specializing in custom homes, residential remodels and renovations, commercial and industrial construction, concrete tilt-ups, medical offices, tenant improvements, and ADA compliance.  The company is defined by honesty and integrity and offers the highest quality construction work.  We are dedicated to our customers and to producing quality construction that is delivered both on time and within budget.  We are fully committed to exceeding our clients' expectations and to providing the best possible value for the dollar.
While we are small in comparison to large, corporate contractors, our lean size and hands-on style is our strength.  We have the organizational and managerial ability to operate in the same manner as our competitors, conducting multiple projects and constructing high-end developments, while delivering personalized services to each of our clients.  Our integrity is second to none and our attention to detail and quality is unsurpassed.  When partnering with Stephens Construction, clients enjoy direct attention from the owners, ensuring personalized service and attention throughout the construction process.
The Stephens name has been a mainstay in the construction industry since the 1950's and we plan to remain at the forefront of this business.  We are committed to our customers and we strive to produce quality construction that is delivered both on time and within budget.
Our broad based knowledge of construction and construction practices allows us to customize an approach that addresses the individuality of each project, large or small.  We provide the best value for the dollar, offering the highest levels of honesty, integrity, quality, and service.
We appreciate your business, look forward to surpassing your expectations, and are pleased to serve the greater Houston, Texas area!
Stephens Construction is a Certified LEED Green Associate construction company and experienced in building ADA compliant projects.  We are also an active member of the Greater Houston Builders Association and the National Home Builders Association.